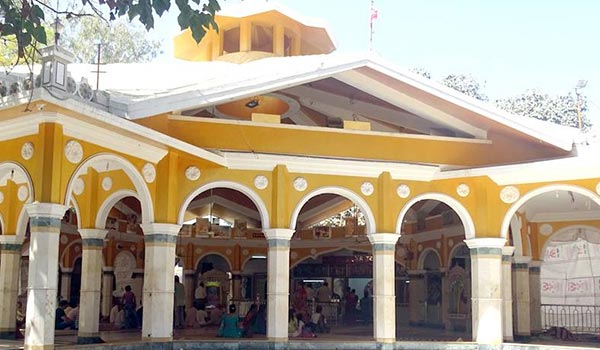 DAY 1
Ahmedabad – Jamnagar – Dwarka
Arrival at Ahmedabad, meet & greet continue proceeds to Dwarka, en-route visit Jamnagar Bala Hanuman Temple – Bala Hanuman Temple is a pilgrim place venerated by the devotees of Lord Ram. It is a world famous temple, known for the continuous chanting of Jai Ram, Shri Ram. The chanting is going on since 1964 and has found a place for it in the Guinness Book of World Records. People chant the name of the Lord in shifts, 24 hours a day.

Later Proceed to Dwarka, visit Lords Dwarkadhish Temple. Attend evening Aarti Darshan at Dwarkadhish.
DAY 2
Dwarka – Porbandar – Somnath
Attend early morning Aarti at Dwarkadhish temple, have breakfast & thereafter visit Bet Dwarka, Nageshwar Jyotirling & Rukmani Temple.
Bet Dwarka – Also known as Bet Shankhoddar, Bet Dwarka is only 5 kms from Okha Junction in sea and Okha is 30 kms from Dwarka. It is said to be the place where Lord Krishna lived with his family when the ruled at Dwarka. It is also the place where Vishnu slew the demon Shankhasura. Visitors make it a point to visit the Krishna temple at this site which holds much of interest to be seen and experienced.
Nageswar Mahadev – The Puranas mention 12 Jyotirlingas or columns of light representing Lord Shiva, who manifested himself in that form in different parts of India. This Shiva shrine nearDwarka is one of these and is there- fore accorded great respect.
Rukmani Temple – Temple of Lord Krihsna's wife.
Continue proceeds to Porbandar, visit Kirti temple, Sudam known as house & born place of Mahatma Gandhi. In back side house of Kasturba wife of Gandhi. Also visit of Gandhi museum, study room of Mahatma Gandhi in the Kirti temple.
Later visit of Sudama temple & continue proceed to Somnath, evening aarti Darshan at Somnath Temple – A lord Shiva temple known as Jyotirling built by Moon God.
Enjoy lighting and sounding Show Overnight stay at Somnath.
DAY 3
Somnath – Junagadh – Ahmedabad
Morning after breakfast proceeds to Junagadh, visit UPERKOT FORT is an ancient fort built by Chandr Gupta. The fort as been rebuilt & extended many times. Later visit ofAshokan Edicts,Mahabat Maqbara. The Ashoka's Rock edict is on way of Girnar hill temple. The rock engraved with the Buddhist edicts of Ashoka. The edicts impart moral instruction on dharma, harmony, tolerance and peace.
Continue proceeds to Ahmedabad.
Overnight at Ahmedabad.
DAY 4
Ahmedabad Sightseeing & Departure
Morning after breakfast visit Akshardham Temple (Monday Closed) Akshardham is situated in the capital city of Gandhinagar, which lies near Ahmedabad. The magnificent temple is dedicated to Lord Swaminarayan. It was constructed on the directions of Pramukh Swami Maharaj, the spiritual leader of BAPS Sanstha. The complex of this temple is the largest in Gujarat. Akshardham temple was inaugurated in the year 1992 and has become a major tourist attraction in India, during the last decade. It has a sprawling 23 acre area and is chiseled out in pink sandstone. Sidi Sayed mosque, built in 1573, is one of the most famous mosques of Ahmedabad. The mosque is entirely arcuated. The mosque has ten screen windows (jails) on the side and rear arches The Swetambara Temple  Hatheesing temple was built outside delhi gate in 1850 by a rich jain merchant Sheth Hatheesing. This is the best known of Ahmedabad's many ornate jain temples. It is dedicated to Dharamnath, the fifteenth Tirthankar whose status stand in the main sanctuary Built by pure marble profusely decirated with rich carving, Gandhi Ashram The beautiful ashram complex of Ahmedabad, with shady trees populated by thousand of paraketers, Beaters, sunbirds, squirells, offers a refuge from the loud streets of the city and is one of the foremost tourist attraction of Ahmedabad. This ashram was Gandhi's headquarters during the long struggle for Indian independence. His ashram was founded in 1915 and still makes handicrafts, handmade paper and spinning wheels. This ashram is open from 8.30 AM to 6.30 PM.
Later drive to Adalaj, visit step well is an architectural wonder built by Queen Rudabai and is certainly one of the finest monuments of Gujarat. It is a seven-storied structure in the form of a well with chambers one behind the other. The 'Vav' or stepped wells of Gujarat were used as meeting and resting-places during summer since their cool interiors offered unbelievable respite from the scorching sun outside.
In the summer people warmed themselves on the spacious sunny corridors while wide verandahs offered shelter during the rains. Adalaj is a village to the north of Ahmedabad.
Later transfer to airport/railway station for onward journey.